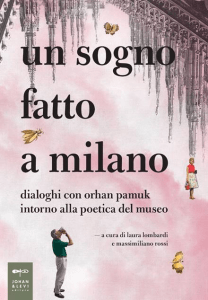 Un sogno fatto a Milano. Dialoghi con Orhan Pamuk intorno alla poetica del museo ('A Dream Made in Milan. Dialogues with Orhan Pamuk About the Poetics of Museums') brings together observations by art historians, museologists and critics of contemporary art on the extraordinary museological project that the Turkish Nobel Prize-winning author, creator of the Museum of Innocence, realized in Istanbul. The eleven contributions delivered at the Brera Academy conference in January 2017 are here preceded by an introduction by Salvatore Settis and followed by heretofore unpublished observations by Orhan Pamuk, himself, that he shared with the audience during the conference.
The book collecting the contributions (in Italian) being presented was born at the same time as the exhibit, "Love, Museums and Inspiration. The Museum of Innocence of Orhan Pamuk in Milan" (curated by Laura Lombardi and Massimiliano Rossi) at Milan's Bagatti Valsecchi Museum, which greatly inspired Pamuk (exhibit material available in English).
The exhibit will be open until June 24, 2018.
Wednesday, March 28, 2018, 6.30 PM
Book presentation (in Italian) with Laura Lombardi, Massimiliano Rossi and moderator Stefano Salis
Un sogno fatto a Milano
Dialoghi con Orhan Pamuk intorno alla poetica del museo
('A Dream Made in Milan. Dialogues with Orhan Pamuk About the Poetics of Museums')
ENTRY FREE WHILE SEATING LASTS